Where did you learn to ski?
Learn to ski as an adult ?! My tips & experiences from 8 years
Are you ever too old to learn something? I don't think so! I am convinced that you can learn (almost) anything, no matter what age and no matter what the starting point. There is nothing worse than people who keep saying "Oh, I would love to do X or Y, but it's too late for that" - be it at 70, finally, to go on the big journey that one has always wished for 80 to learn a new language or to start yoga at 60. Or how I started learning to ski when I was 30.
My personal skiing history began in January 2012 - exactly eight years ago. Can I go skiing now? Yes - even if I still struggle with black slopes and have a bad day every now and then. Was it worth it? Definitely! For me there is nothing better in winter than to sweep down the mountains with a blue sky and every effort was worth it for this feeling of happiness alone. But it is also a fact that as an adult you approach the matter with more respect, because you simply "drive your head more" than, like the small children, "with emotion and fun". And so there are still moments today when my head tightens and I just stand with trembling knees on the edge of a steep, icy slope and are just scared. While this feeling was a regular part of my early days, it has fortunately become very rare today. Because what predominates for me is the flow, which you can already feel a little on your first day of skiing. That feeling of what skiing will be like when you can. This feeling that gets stronger every day of skiing.
In this blog post I would like to give you a little insight into my skiing experiences so far, share my successes and failures and what I have learned from them. And of course I reveal my tips that can help you to learn to ski yourself as an adult. So on the slopes, set, go!
Learning to ski as an adult # 1 - My first skiing experience while cross-country skiing in Oberhof
As a child I was always very anxious, which was probably the reason that I never tried skiing despite the ski areas in front of my nose in the Harz Mountains. Later, when my friends were always busy going on their skiing holidays, I got the idea to start skiing. After visiting the Biathlon World Cup in Oberhof in 2012, I decided to try cross-country skiing first. But because I wanted to ski just like the athletes in the biathlon, I immediately started with the advanced technique that other skis require: skating. In addition, I practically taught myself with the help of a friend. After two days I made more than enough progress and even did my first major tour. I found the downhill runs to be the worst and decided: No, downhill skiing will probably never be my sport! After that, I went cross-country skiing once or twice (e.g. in the Harz Mountains) and have had my own skating skis since the beginning - but then everything turned out differently.
About my first cross-country skiing experience in Oberhof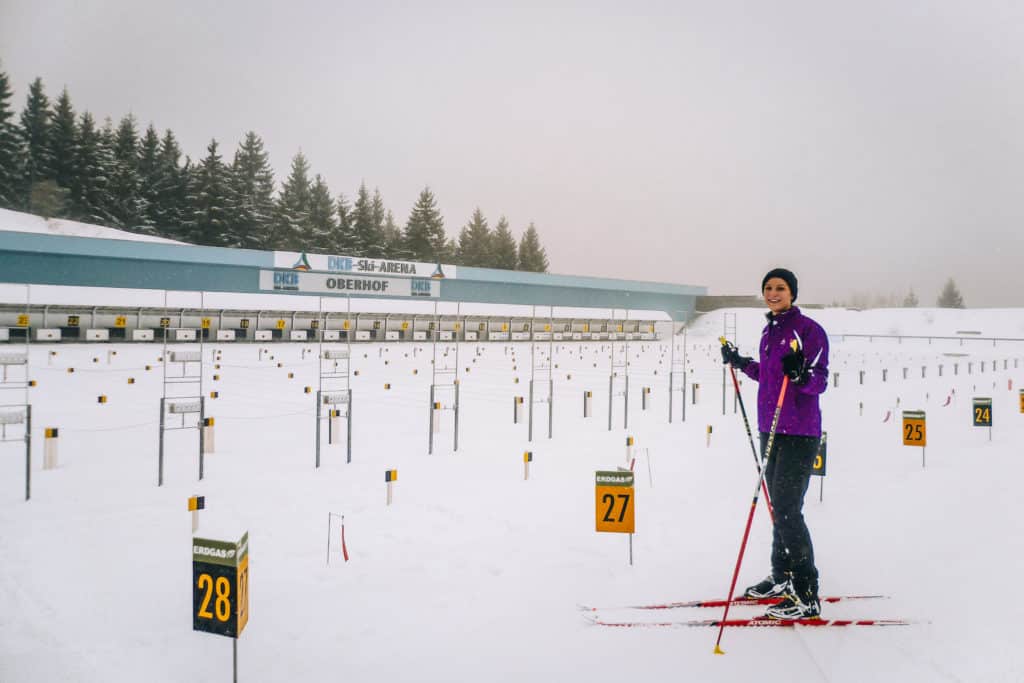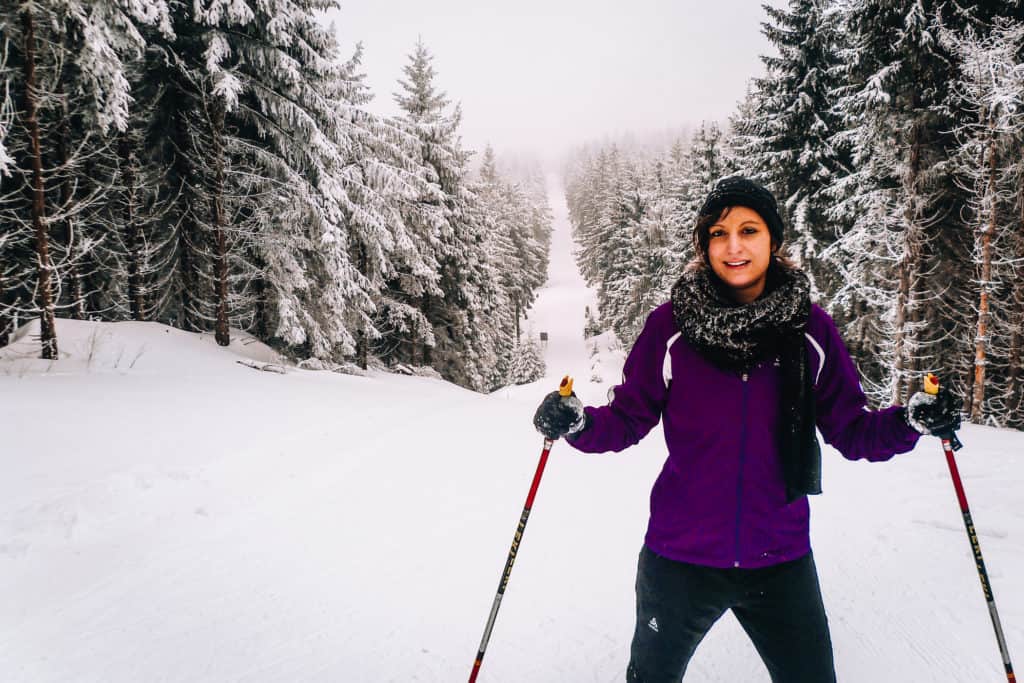 Learning to ski as an adult # 2 - learn to ski in two days on the Wilder Kaiser? (Ski day 1-3)
When I received the offer at the beginning of 2013 to try my first turns on alpine skiing on the Wilder Kaiser in Tyrol as part of a two-day ski course for (re) beginners, I saw it as a sign of fate. According to the motto: "If not now then when" or "If you don't dare, you won't win", I tried my luck on alpine skiing for the first time. Together with a ski instructor, I actually managed to come down easy red slopes without fear and with fun in the two days. If I had known then what a long way I would have to go before I could actually ski properly.
But one thing is certain: I had taken the first hurdle and, contrary to what I feared, I was able to ski normal slopes in these two days - albeit at my own slow pace, of course. My greatest success on the third day was the valley run, which I mastered all by myself (if not entirely without fear).
More about my skiing adventure in Söll at the Wilder Kaiser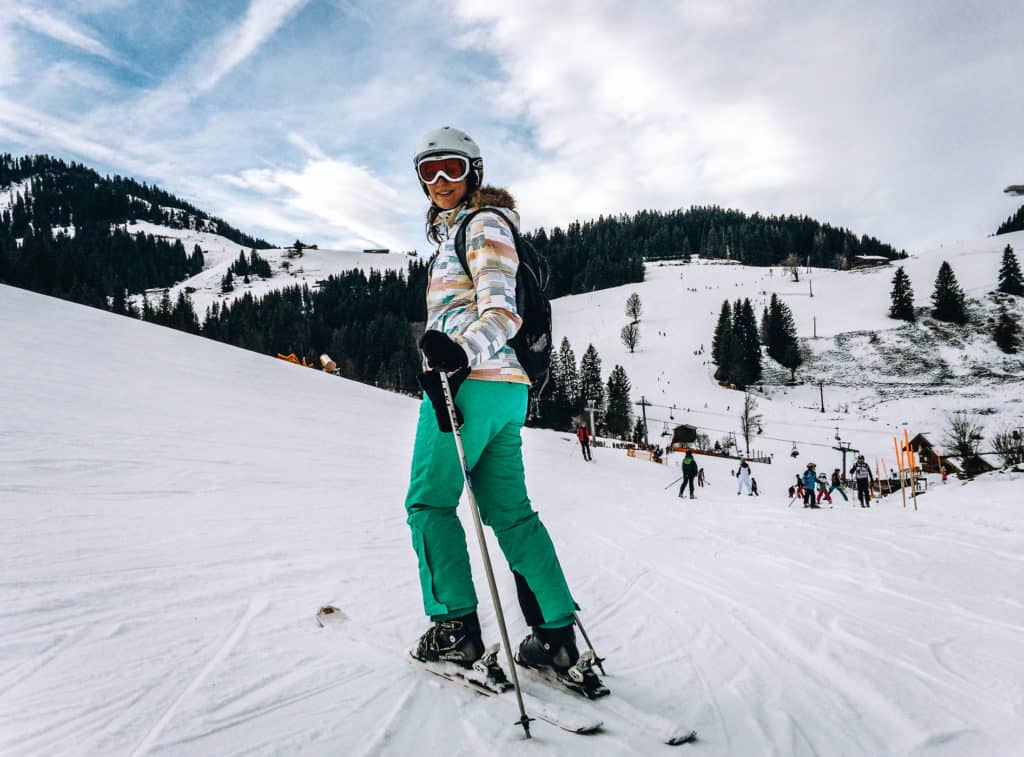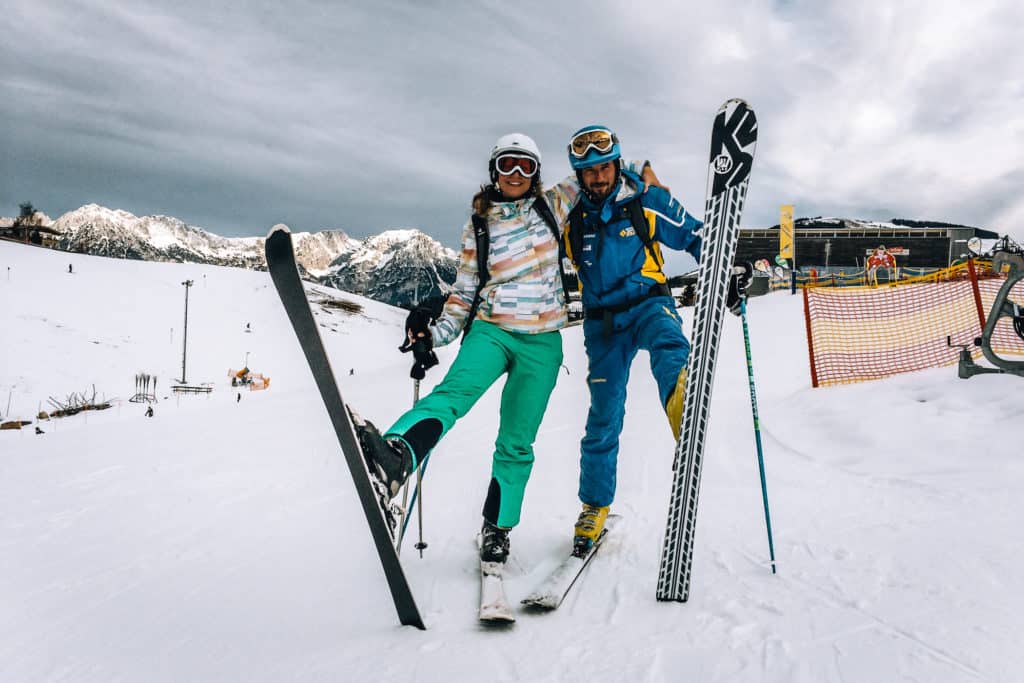 Learning to ski as an adult # 3 - back on skis on the Turracher Höhe (ski day 4)
Exactly a year later I was back on skis. Namely on the Turracher Höhe, a quiet, more familiar ski area on the border between Carinthia and Styria - actually perfect for beginners like me. Before I started, I was very excited and feared that I would no longer be able to do anything I had learned a year ago. But the opposite was the case: the break even solidified what I had learned and my ski instructor believed that I could already do slightly more difficult slopes. My third day of skiing on the Turracher Höhe only began with a beginner's course for my friend, who had never skied before. So I was able to repeat all the basics in peace without having to stand at the top of the abyss immediately after a year break with the fear of having forgotten everything. In the end I drove around a little with the ski instructor - which worked really well and gave me a real elation.
More about my short winter vacation at Turracher See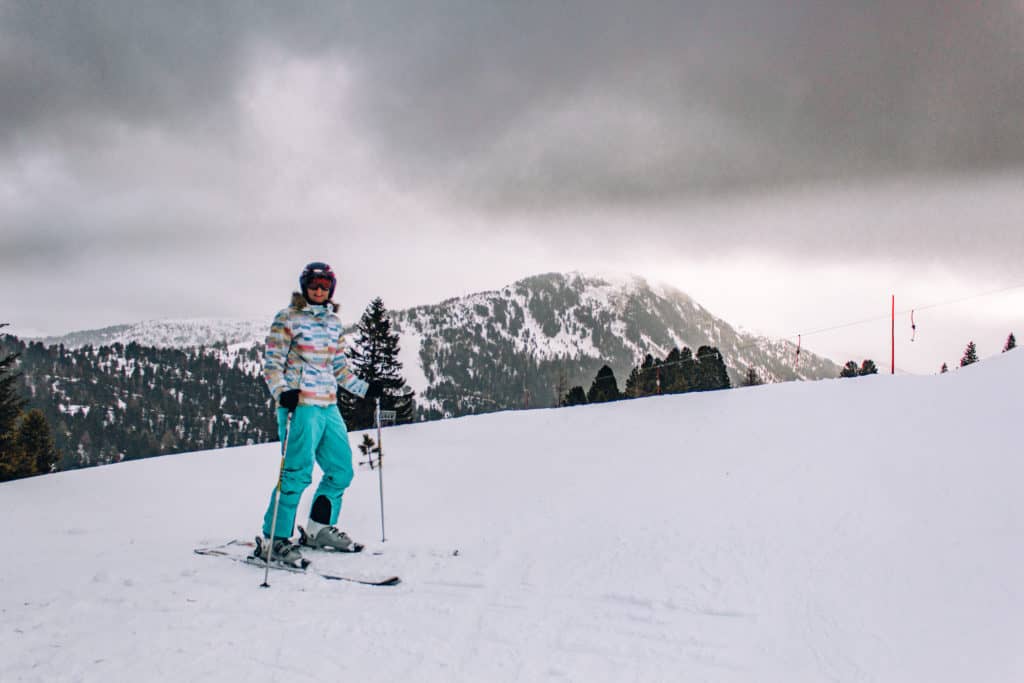 Learning to ski as an adult # 4 - My first ski tour on the Kitzsteinhorn or also: the low point (ski day 5-6)
What actually brought me to skiing is the dream of one day being able to go ski touring away from the slopes. Because the hype on the slopes is actually not what I associate with a perfect winter holiday. Sure, I had fun skiing now, but how much cooler would it have to be when you can stomp across empty white surfaces, conquer peaks and then curve down into the valley in a really cool and easy way? At least that's my idea. Driven by this dream, I started my first little ski tour on the Kitzsteinhorn. Because of the lack of snow and my beginner skiing skills, the tour took place on the edge of the piste - but it was still really cool because I could get a feel for what my skiing adventures might look like in the future. In the end, the descent was canceled due to bad weather (and lack of strength on my part).
The next day I met my guide Heli again to go glacier skiing. I don't know whether my muscles were still tired from the ski tour the day before, whether it was due to the many people or whether Heli and I just didn't work well together. But it was very difficult for me to get going that day and had the feeling of not meeting the expectations and plans of the ski instructor. I felt like a failure that day and even if it worked to a certain extent towards the end, I came back to my friend's accommodation that day (who, by the way, gave up skiing because he was too afraid of injuries) with the words: " I don't know if I should give up skiing after all ... "
More about my trip to Zell am See Kaprun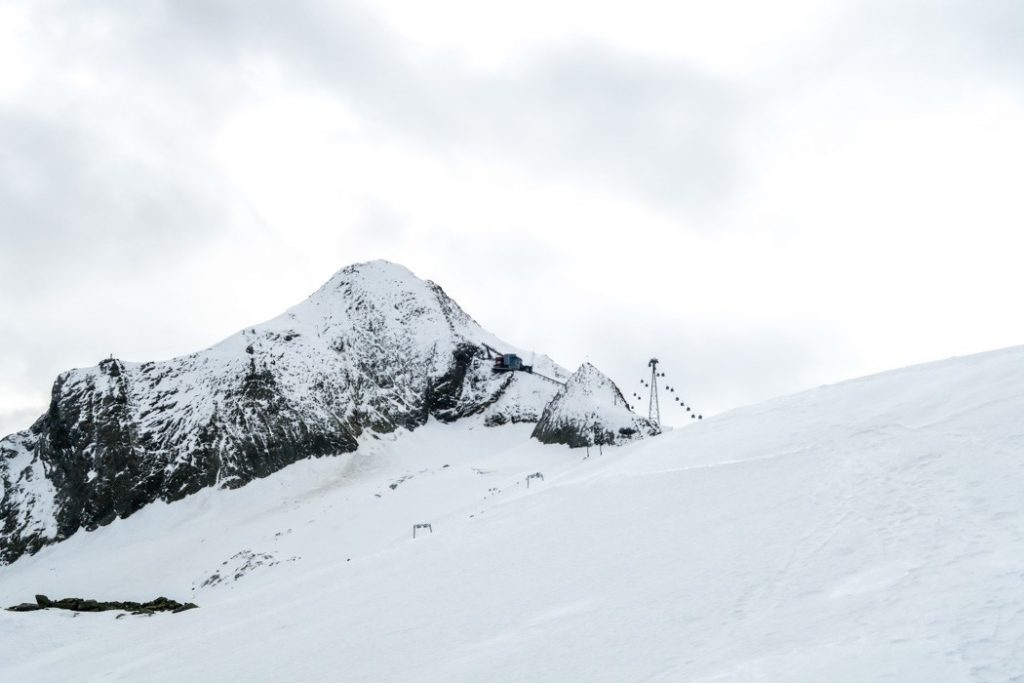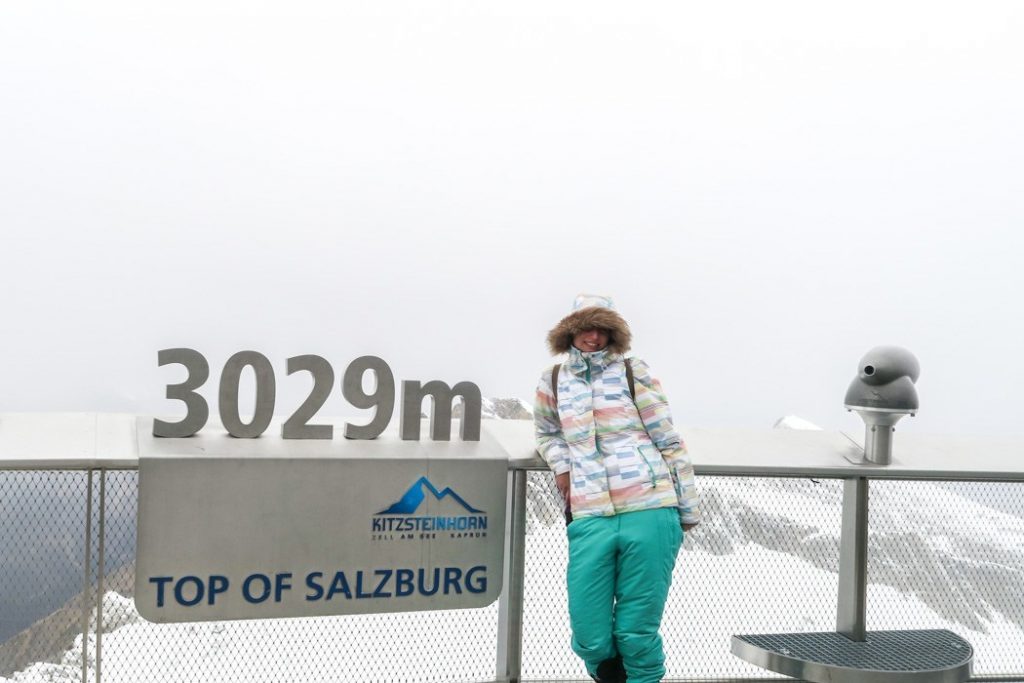 Learning to ski as an adult # 5 - finally learn to ski properly in Davos (ski day 7-13)
It didn't get that far: I wasn't ready to give up skiing yet. Instead, a long, seven-day ski course was supposed to help me finally learn to ski "properly". It started off totally relaxed for me: I was reassured that, of course, nobody had any expectations of me in the beginners course and that I could easily start over with the basics. Fortunately, most of my group consisted of participants who had some prior skiing experience. So we were able to complete the basics pretty quickly and start with the right slopes. The decision to take the longer ski course was the best thing I could have done at this point. In the first 1-3 days I noticed what a difference the weather, daytime form and what I call "panorama" can make. Slopes that are as flat as the practice hills in the valley appear incredibly steep with the appropriate panorama.
And as soon as your legs start shaking and your head shut down, skiing is over for the time being. Today I know how best to deal with such situations (do not stand too long on steep sections, but take a deep breath with the thought in my head "I can do it" and then drive bravely) and that you (at least for me) completely are normal. The weather in combination with unfamiliar slopes can also lead to the feeling that you are no longer able to do anything. The same applies to your own day form, which can really differ greatly. One day you are still confident, the next day you really don't want to but give up and crawl into the spa.
While on the first two days I was still wondering when my ski turns would finally look like those of the skiers whizzing past me, on the third day it suddenly clicked. I drove in the afternoon after the course to practice and the same (blue) slope over and over again. I got to know the piste better with every descent, knew the curves, steep sections and pitfalls and suddenly became more and more confident and therefore faster. And before I knew it, I was suddenly really skiing. Even when I suddenly realized that due to a wrong turn I had suddenly taken a red runway that we had never skied on the course and that I had to drive three more red runs to get back to the starting point, I remained calm and mastered the challenge.
One thing is certain: My week in Davos definitely had ups and downs and it would be a lie if I said that I had never been afraid again since the "click". But it was the turning point in my skiing history and the moment when I could really explore a ski area and not practice on individual slopes as before.
More about my ski course in Davos and my progress as a video documentation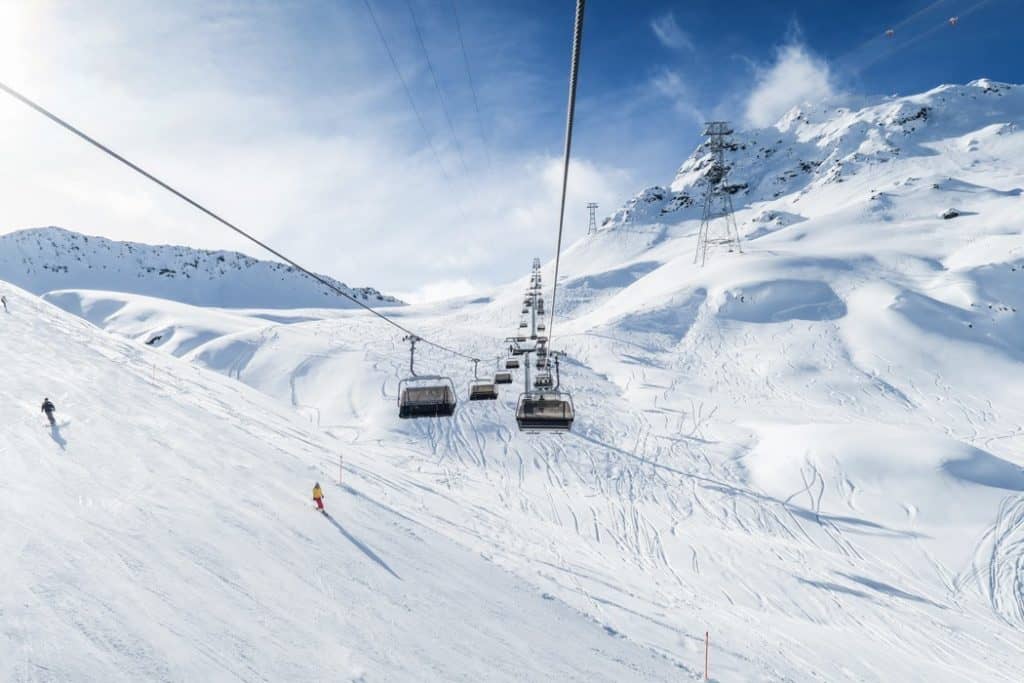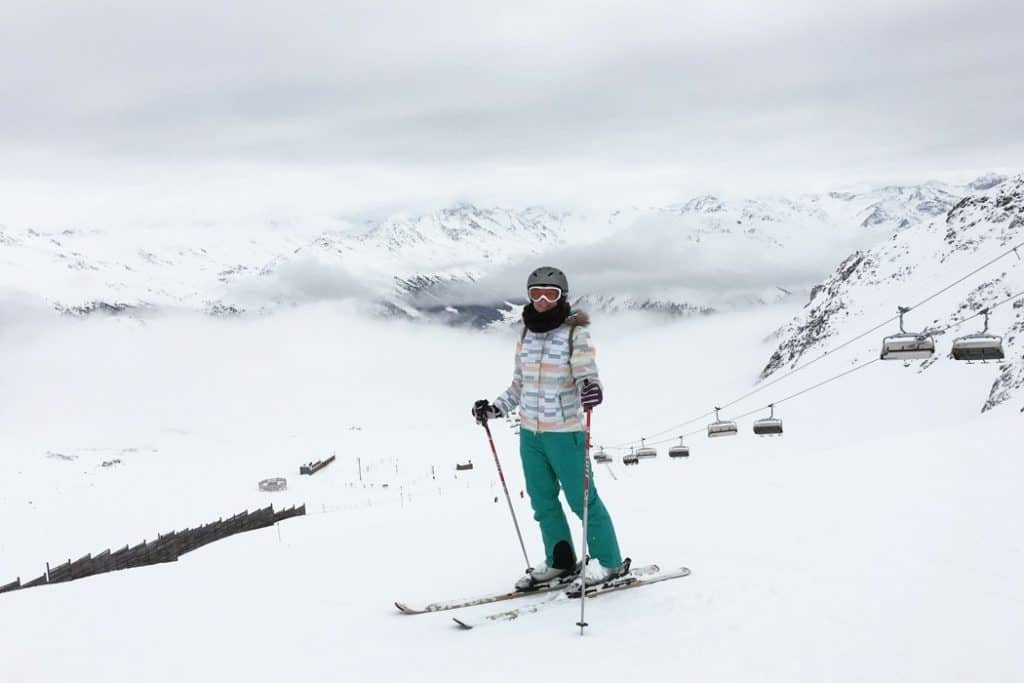 Learning to ski as an adult # 6 - Let's go to Laax and my first freestyle attempts?!? (Ski day 14-16)
For me as a "ski novice", freesyle, halfpipe and co. Were or are a completely different world that I would normally never venture into. However, if you can do it safely and without fear - then why not give it a try? The Laax ski area in Switzerland has one of the first freestyle academy demys in Europe, i.e. a hall in which you can playfully explore the world of freestyle with the help of trampolines, small halfpipes made of a kind of artificial turf, as well as huge air cushions and other attractions. And so it came about that just a few days after my ski course in Davos, during my trip to Laax, I ventured not only on the 235 kilometers of slopes, but also on my first little "mini halfpipe". There were ups and downs again on the slopes in Laax, problems with unsuitable ski boots (which shouldn't be too tight but also not too wide, especially if you're still a beginner), for example, narrow pulling paths on which I could hardly make turns and was too afraid of "gunshot". But also a lot of success stories.
More about my skiing experiences in Laax and my progress as a video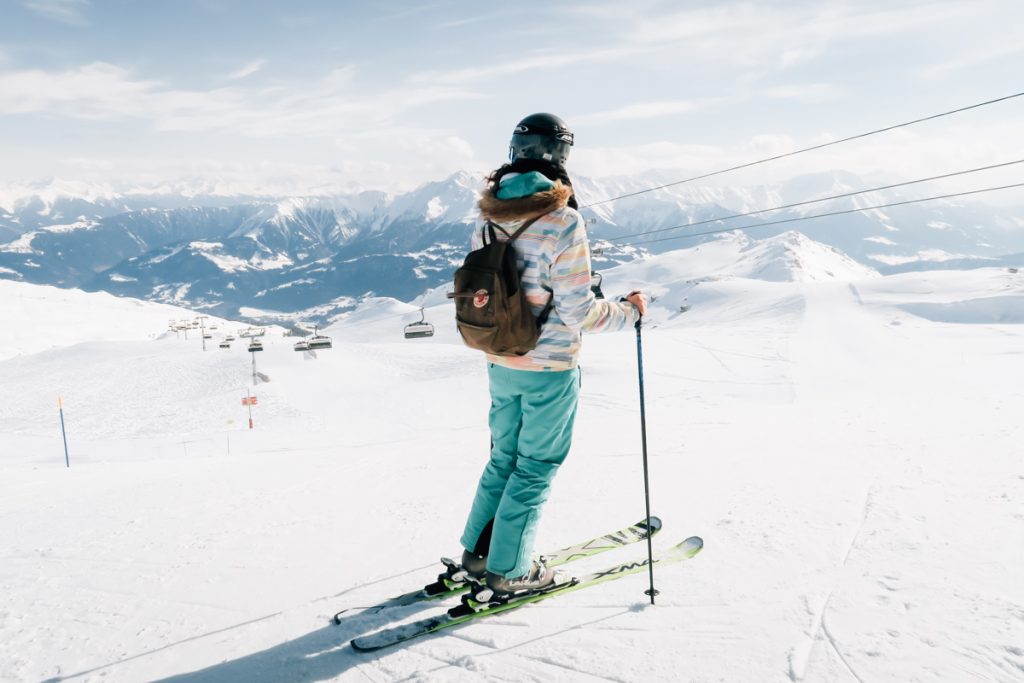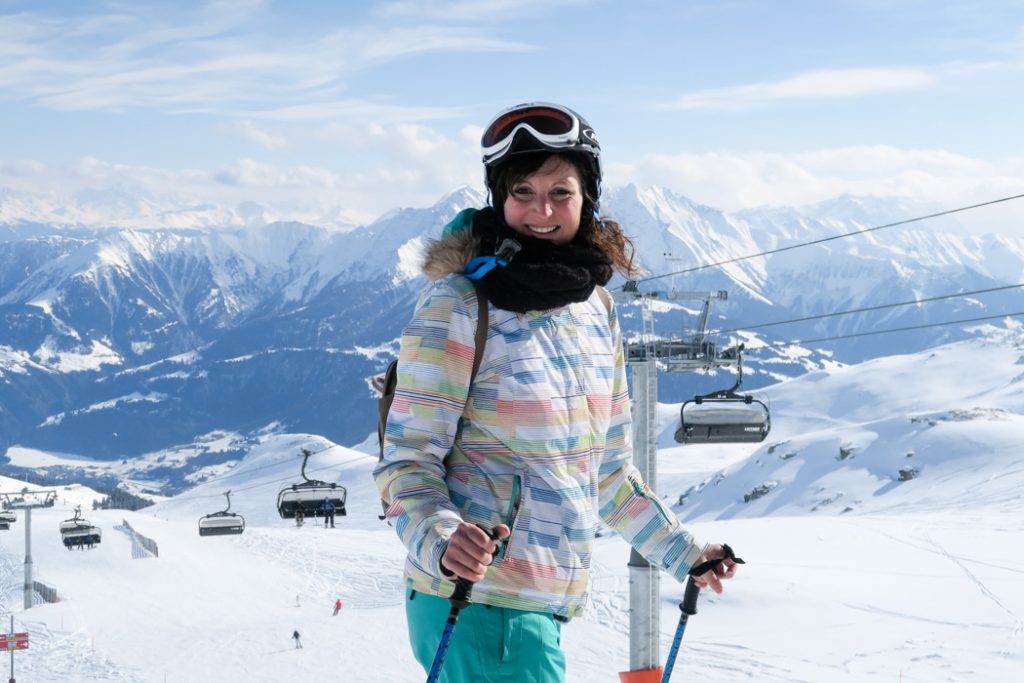 Learning to ski as an adult # 7 - Ski yoga and first deep snow experiences in St Moritz (ski day 17)
How can you combine skiing with yoga? That's exactly what I asked myself before my trip to St. Moritz. Then how I could ever do one without the other. So at least skiing. My guide Sabrina Nussbaum opened my eyes to the fact that Yoga on Snow is much more than just fancy yoga poses with skis under your feet, it is a holistic experience. It starts with the right breathing on the slopes and ends with the sun salutation, which is practiced on skis in a slightly modified form. Even if I have not yet practiced it on the slopes on my own, I have learned a lot about calm and serenity when skiing and trust in myself - all things that have helped me a lot, my occasional fear of new and steep slopes in the To get a grip. In addition, I was able to make my first deep snow experiences in the large amount of fresh snow.
More about ski yoga and other winter experiences in St. Moritz (also as a video)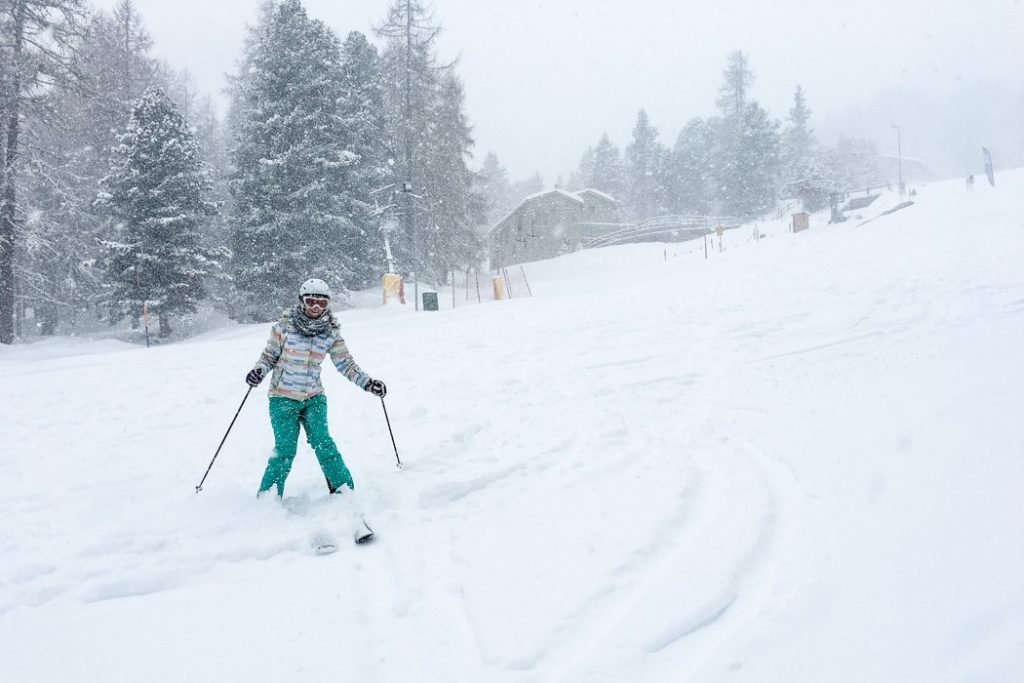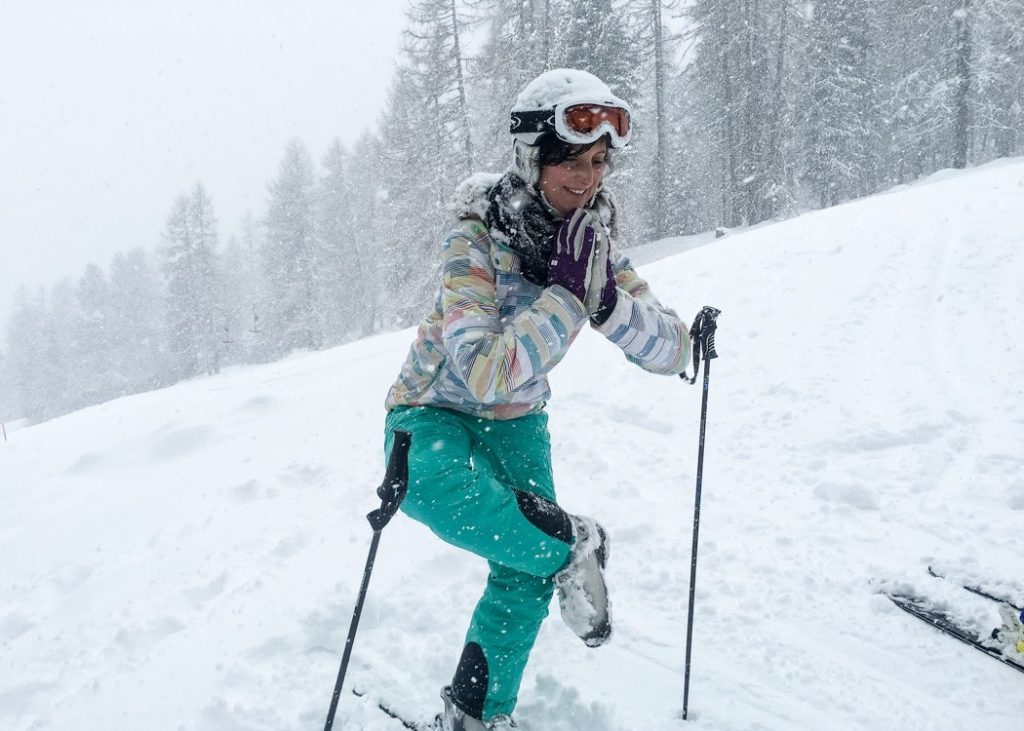 Learning to ski as an adult # 8 - Ski cycling trip through the Salzkammergut (ski day 18-20)
One season later, in 2017, I went on a short ski bike trip to the Salzkammergut in Austria - in retrospect, it was the perfect region for me to start skiing because the Dachstein West, Tauplitz and Gaissau-Hintersee ski areas are family ski areas with many wide and easy slopes apply and despite the great panorama there is no feeling of steep abysses. Nevertheless, there were enough challenges: I mastered the first black slopes and survived my first nasty collision. My knee was still painful for months afterwards, but nothing really bad happened otherwise. In addition to skiing, I was also able to take a look behind the scenes of a snowcat - an exciting experience!
More about my ski bike trip through the Salzkammergut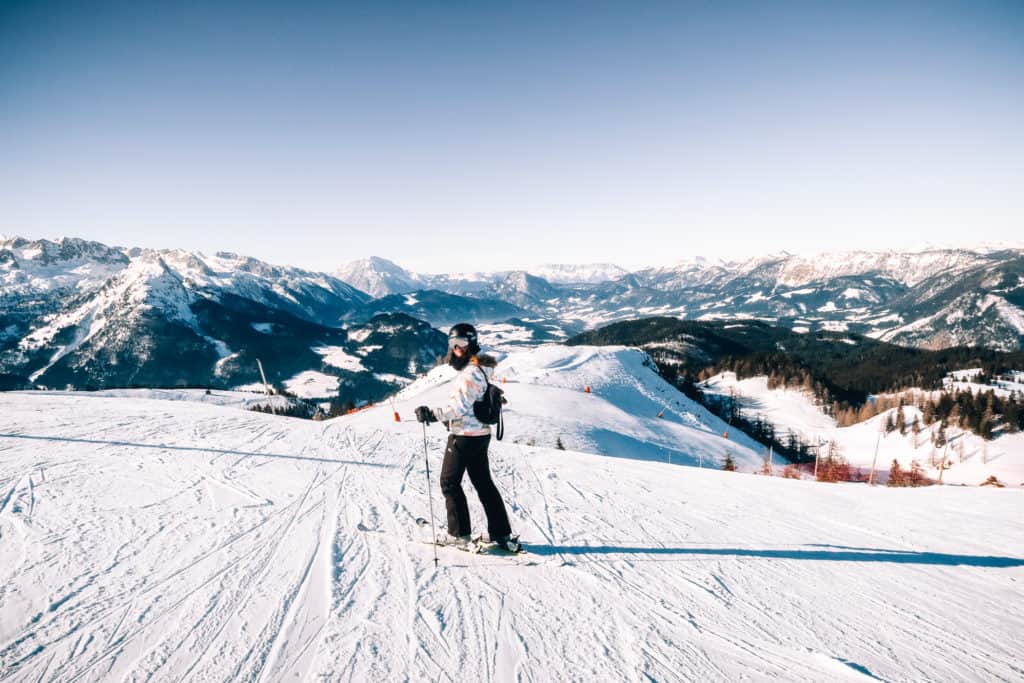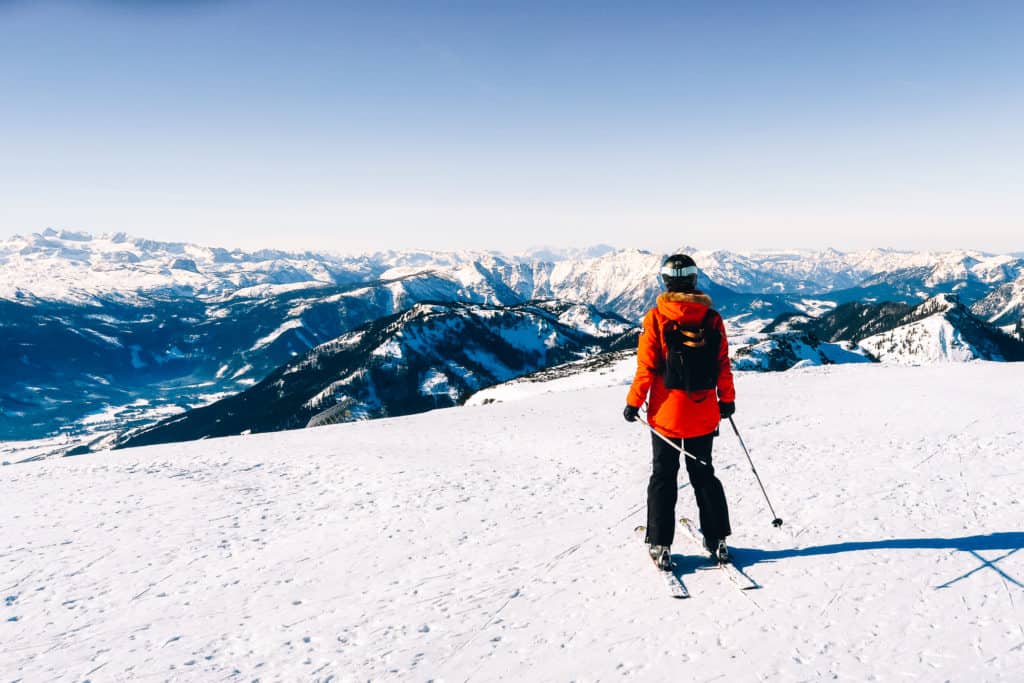 Learning to ski as an adult # 9 - Jungfrau region or also: back in Switzerland (ski day 20/21)
From the Salzkammergut it went straight to the Jungfrau region in Switzerland. Despite a little pain from the accident in the Salzkammergut, I spent two days on skis alongside other winter adventures. It struck me again how unbelievable the panoramas are in Switzerland, but also unbelievably scary and not for beginners who have problems with a fear of heights or steep descents! In the meantime, however, I've been able to deal with such fears well and haven't let myself be dragged down. Instead, I have fine-tuned my technique a lot because, according to our guide, I would still be a rather "unpredictable skier" and would force the turns too much instead of "going with the flow". I knew immediately what he meant: my problem was that I was too scared to take the shot (straight down the slope) and I turned too much and too hectically to quickly initiate the next corner. That's the way it is with skiing: you never stop learning!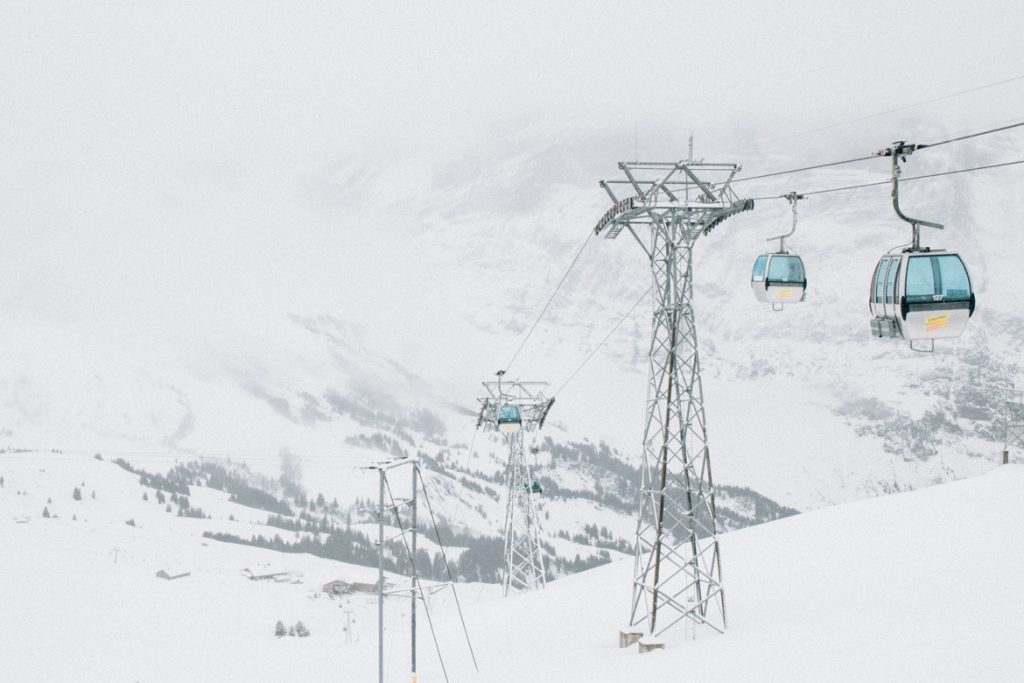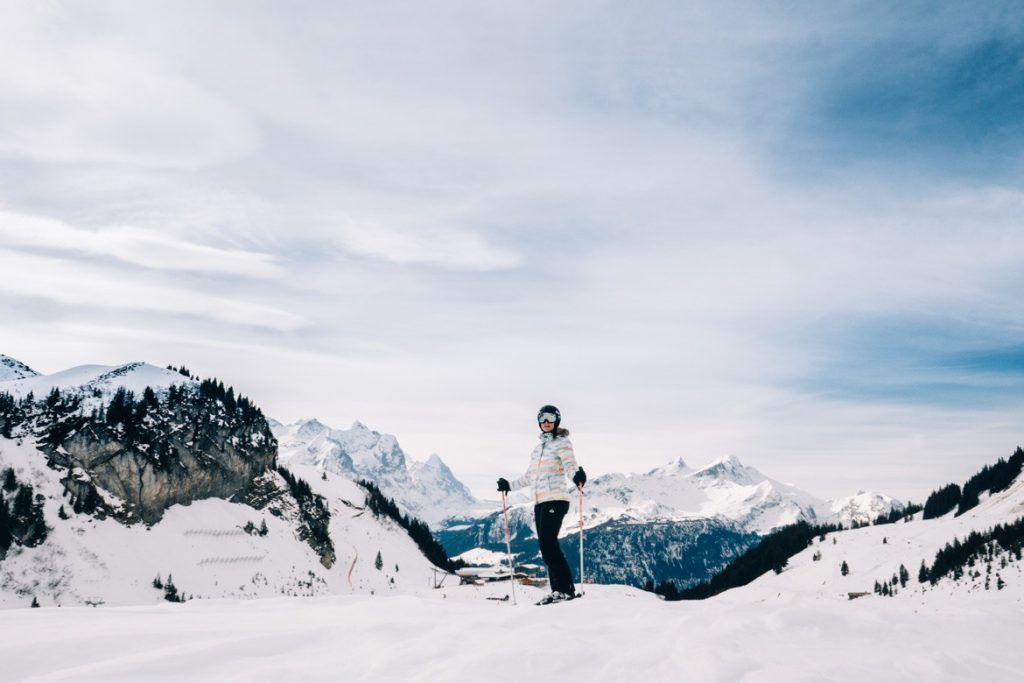 Learning to ski as an adult # 10 - Ski tour for beginners and how I built my own skis (ski day 22-24)
Another year later, in 2018, we went to St Johann im Pongau in winter. Here I went on a ski tour again and noticed how difficult it is to handle the super light and flexible touring skis, especially on icy slopes. Once again I had a "dramatic moment" on the valley run and I'm currently not sure whether I really want to go skiing in the future. The workshop in which I built my own skis was all the more great, and the first day of skiing on them was even better. I had a real flow and once crashed across the ski area with my guide. My self-made skis are not only super beautiful, but also very high quality and heavier than classic (women) skis. Personally, I get along very well with it because it makes them more quiet and stable.
More about my ski tour and my ski building workshop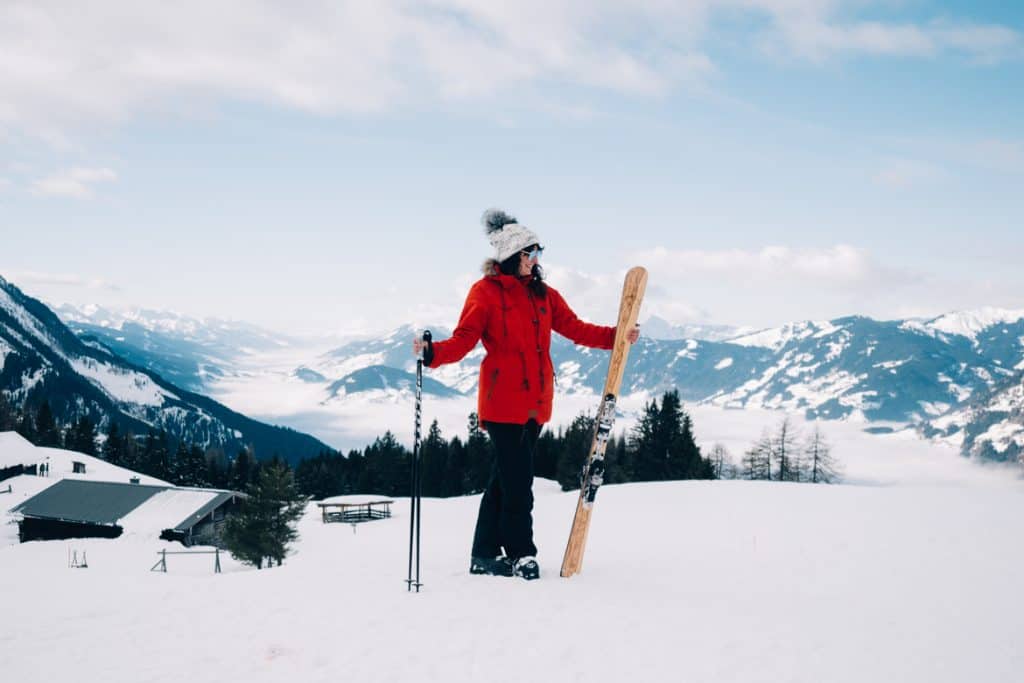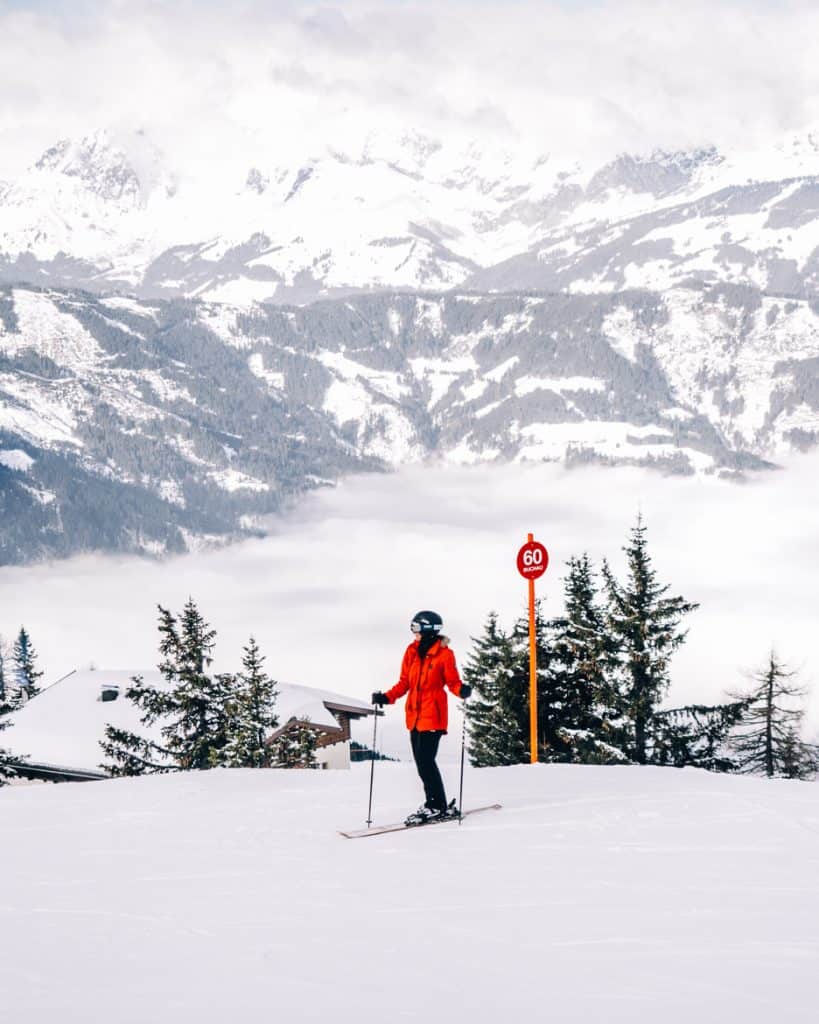 Learning to ski as an adult # 11 - Skiing in Finland in Vuokatti and Koli (ski day 25-27)
Also in 2018 I flew to Finland to ski. For me it was practically the first time that I have skied on pure, deep natural snow - a feeling that we hardly know anymore in the Alps. In particular, the two days in the Vuokatti ski area were perfect with temperatures around -10 to -20 degrees, then it became more difficult in Koli, where the conditions were unfortunately anything but ideal due to the onset of the thaw. And should I tell you something: I gave up after the second descent and preferred to go to the spa. But today I know: Most skiers have such "bad days" and especially when the conditions are so difficult, it's really no drama.
More about my experiences in Vuokatti and Koli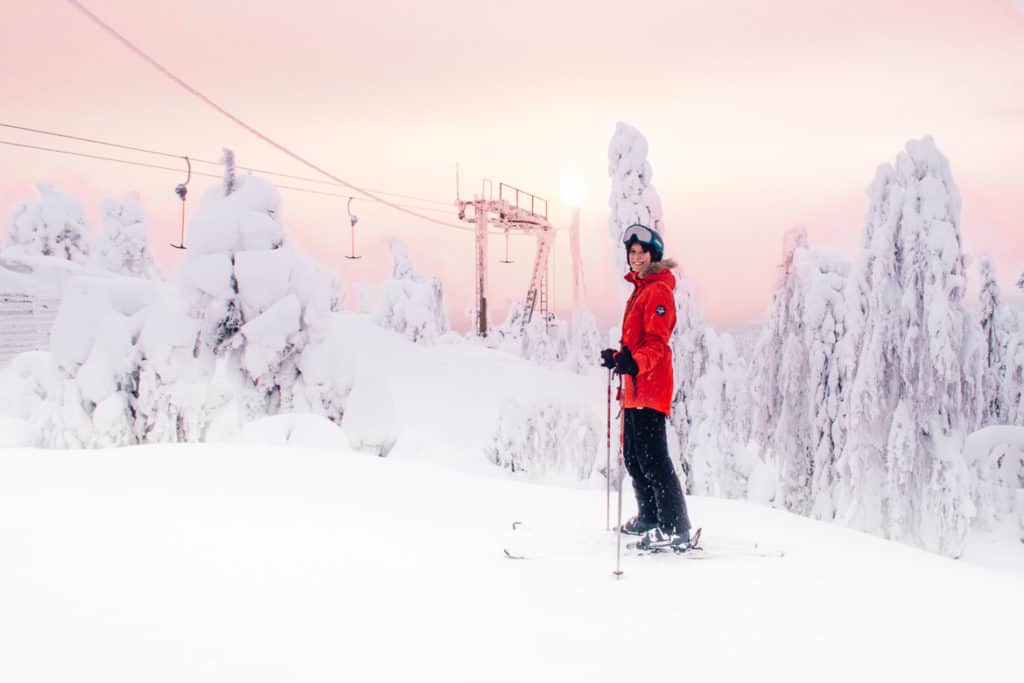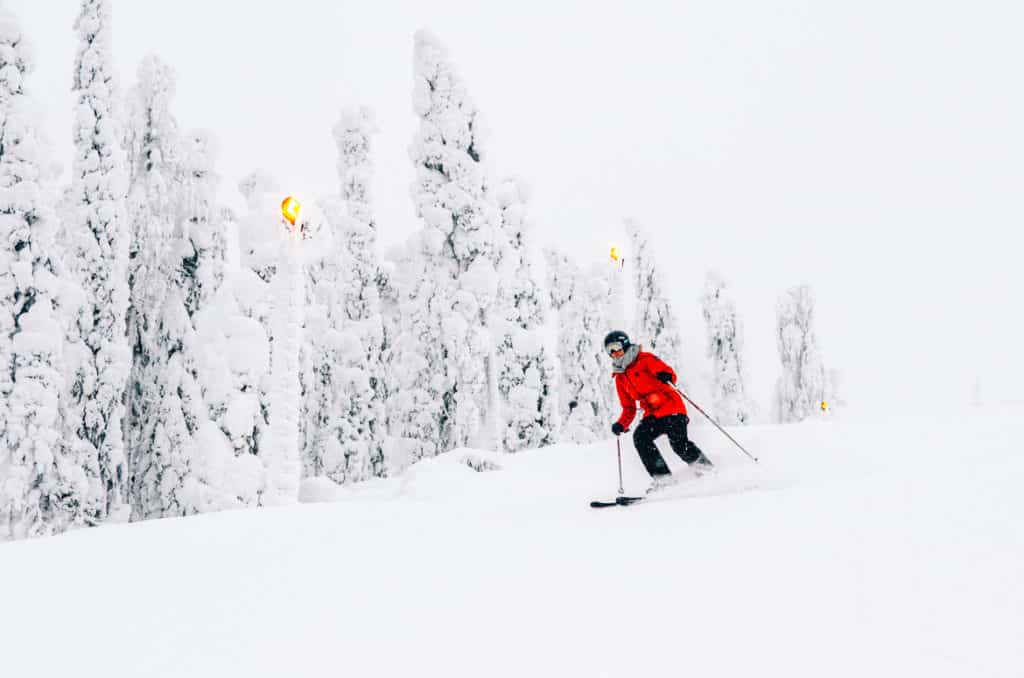 Learning to ski as an adult # 12 - After a two-year break in Serfaus-Fiss-Ladis (ski day 28)
When you start skiing again after a year off, I can't think of a better place to do it than the Serfaus-Fiss-Ladis family area in the sunny Tyrolean Inn Valley. There is not only a large selection of wide, blue slopes on which you can really get back into the swing of things, but also a couple of challenging black runs that I faced after a little getting used to. And on this day of skiing I received the biggest compliment that I have received since I started skiing. After a short break-in period, my ski instructor said to me: "Jana, other people would be happy and would pay a lot of money to be able to ski like you!" Well you can imagine how proud I was at the end of this day of skiing ...
More about winter holidays in Serfaus-Fiss-Ladis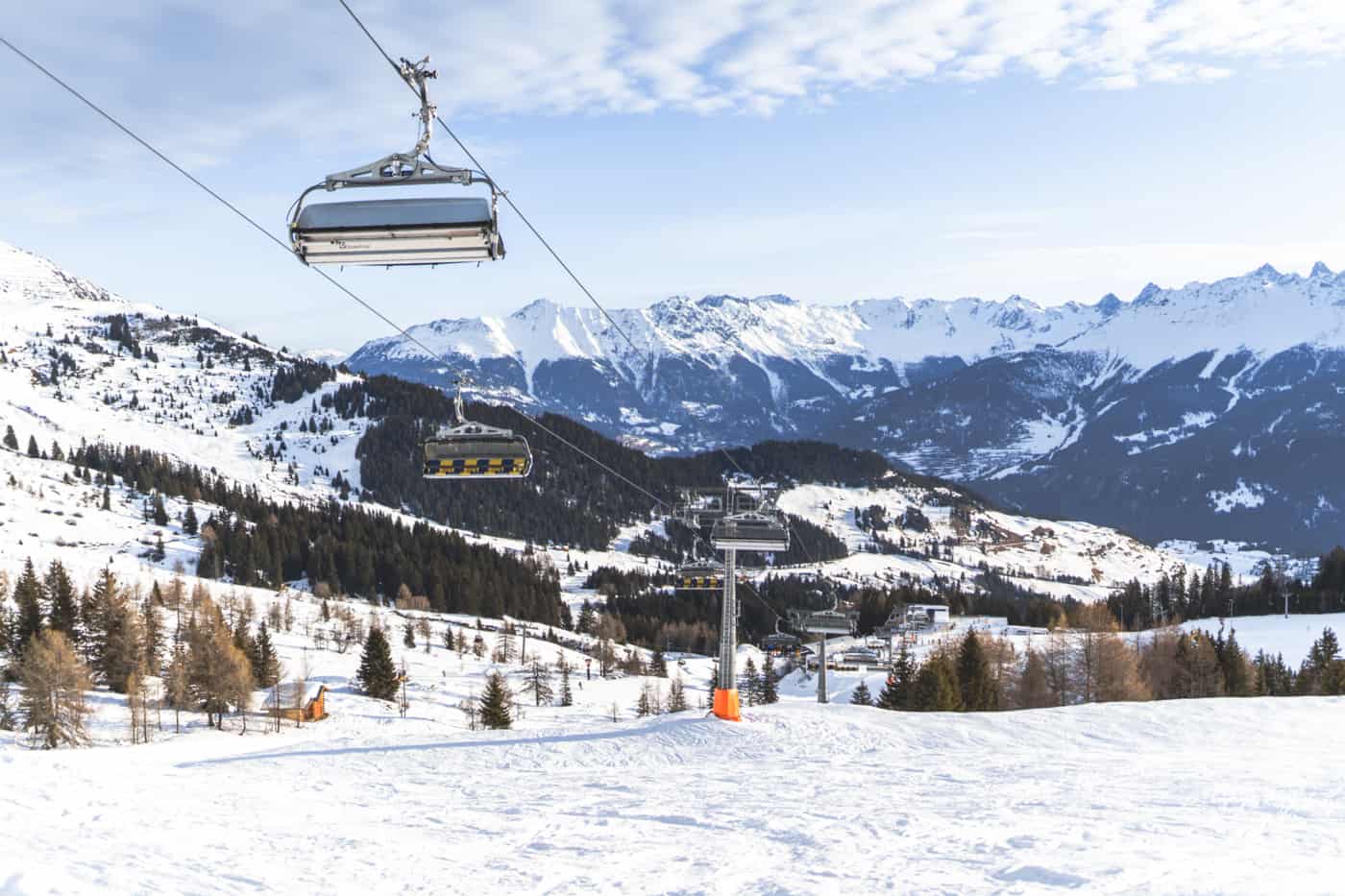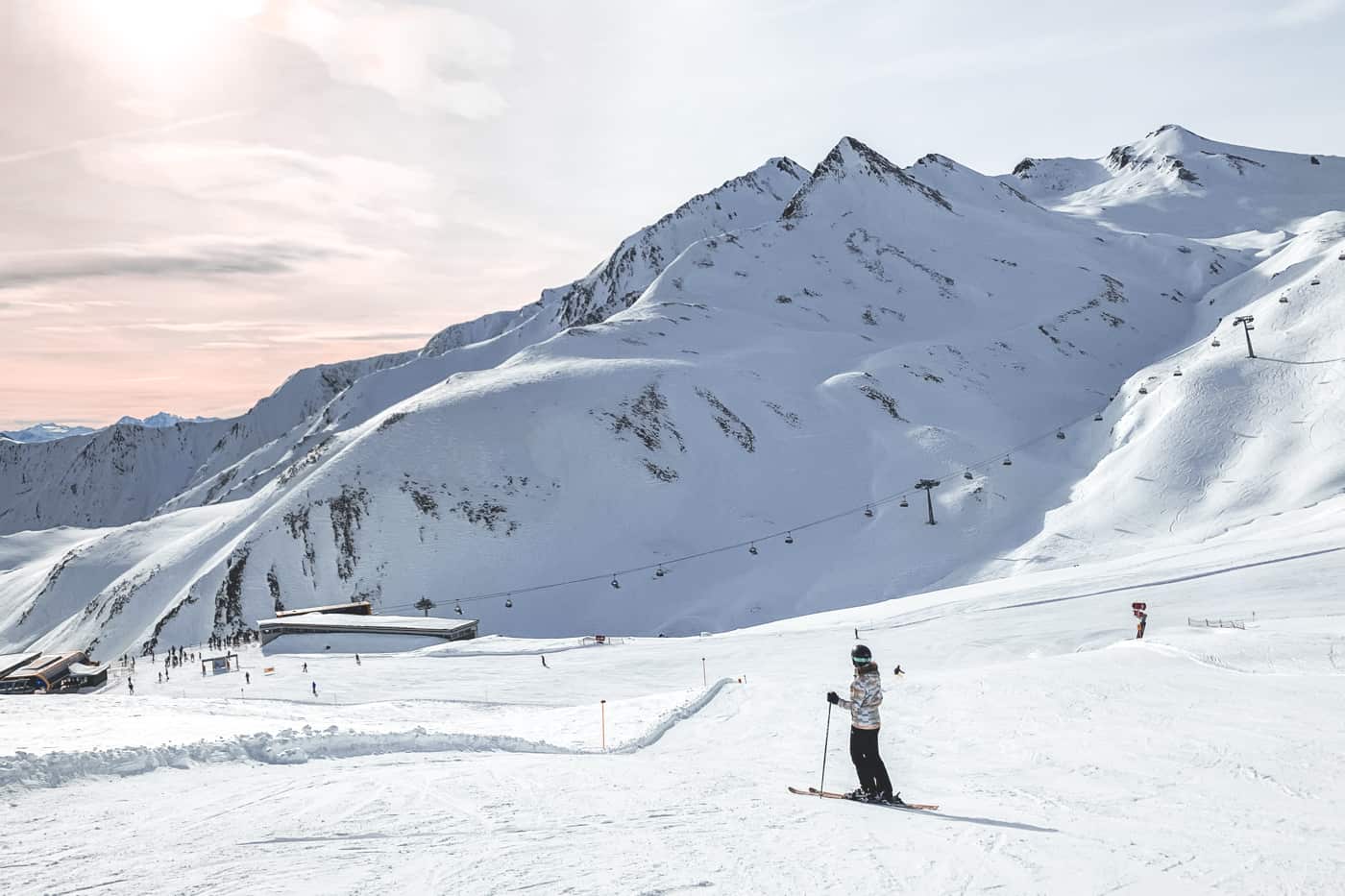 Learning to ski as an adult # 13 - skiing in Austria's sportiest ski area (ski day 29)
After Serfaus-Fiss-Ladis I went straight on (skiing) in the "sportiest ski area in Austria", namely Silvretta-Montafon.And with a big highlight: As part of the Nova exclusive sunrise trip, I was not only one of the first skiers to leave my tracks in the snow that day. No, the wonderful weather also gave me a top class sunrise. I have to say: after my personal high in Serfaus, I noticed in the Silvretta-Montafon that my skiing skills could still be improved significantly.
Here I was again the (felt) slowest skier far and wide for a long time. On the one hand, this may have been due to my queasy stomach that morning (in general, my body doesn't work too well before breakfast), and on the other hand, it was because of my rapid company. But I noticed that even on ski day 29 my ski learning path is not over yet and I still have a lot to plan to sweep down the slopes just as quickly and effortlessly. I also noticed that my condition is currently not good and that I have given my daily exercise program more priority.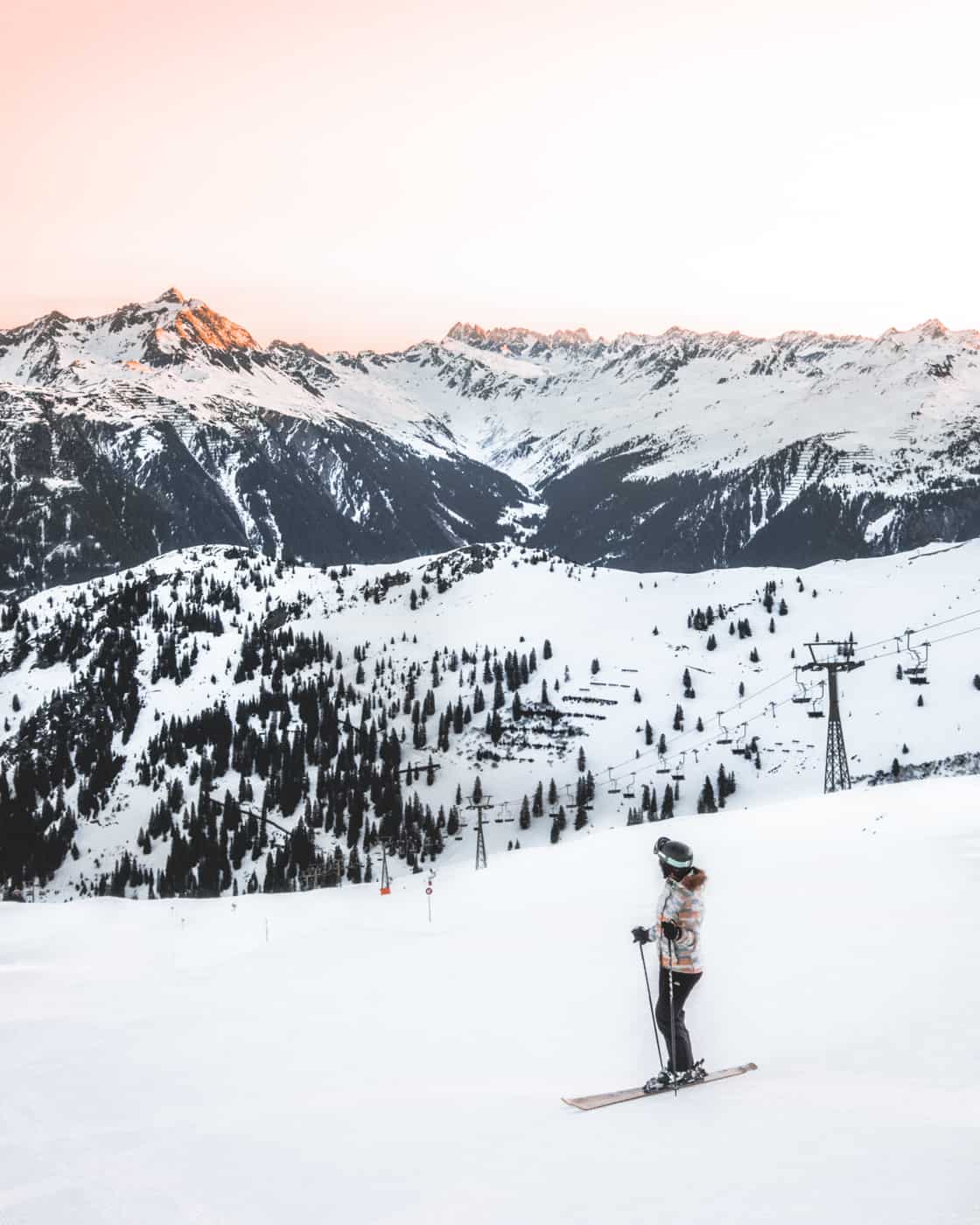 What would I say to you and my beginner-me today?
Apart from the fact that I still see myself as a beginner skier (after I have always been given the worst and shortest beginner skis in the rental shop, I know that I have to say "I safely ski red slopes") I would advise anyone who always wanted to try skiing, but didn't really dare to try it, maybe because all friends are already seasoned skiers or maybe because it never happened to try. Do not be put off by all doubters and form your own judgment.
Conclusion: My tips for learning to ski as an adult
Even if the two sports are very different, a little cross-country skiing experience definitely helps in the beginning of learning to ski. You have at least once "had long boards under your feet" and can skate (very practical if you have to overcome short inclines or straights on downhill skis).
A short introductory ski course (like mine) is great to see if skiing is something for you at all. Because nothing is worse than spending a lot of money on a ski course and then having to practice for days on the children's slope before you can even get a feel for what it's like to ski properly. Alternatively, there is also a crash course in a ski hall around the corner from you.
In my opinion, a longer ski course of at least one week is essential to really let yourself go skiing. It just takes the time and practice that you can hardly get on several short trips - unless you live in the mountains (but then you can actually go skiing, right?)
It's better to start with ski areas that don't advertise with their breathtaking panoramas, because even simple, blue pistes seem steeper here than elsewhere
If you are particularly anxious, you should consider learning to ski in Scandinavia or Finland - there are even easier, green slopes there
If you want to learn to ski, you should definitely stay on the ball and go skiing for several days for several years in a row - only through regularity will the skills solidify
In any case, when you want to (learn) to ski, look for times when the ski areas are not so full - especially during the week. The week is particularly good to January 6th, because that's when most of the people are back at work.
Better to ask too little than too much: It is always better to ski slopes that are too easy than too difficult. Because nothing is worse than the feeling of being overwhelmed, because that is exactly when this "fearful paralysis" comes.
In general, however, I also noticed: the faster you go, the safer you are, and that's why I now prefer to ski on red rather than blue slopes.
Everybody has bad days, especially on skis, and when the weather and / or conditions are bad too ... You shouldn't be discouraged by days like this. How do you say: "When the weather is nice, everyone can ski"? I would rather say: "When the weather is nice, skiing is definitely easier.
It is of course best to look for a ski buddy for learning to ski as an adult, with whom you can learn it together and then continue to practice together on a regular basis. Because nothing is worse than skiing with a group of experienced skiers as a beginner and constantly feeling overwhelmed and feeling like a block on your leg. Then if in doubt, it is better to practice alone, always arrange to meet somewhere for breaks. Now, after almost 30 days of skiing, I can now keep up with average skiers, but I prefer to let the professionals go ...
If you're at it a little, it's definitely worth buying your own ski boots. I always had a lot of problems with the shoes that were either too narrow or too wide for my foot. In addition, getting dressed with my high instep was a cramp. Then one day when I slipped into a pair of ski boots that felt like clouds and that were brand new, I bought this one after my day of skiing and I never regretted it.
One thing is certain - also when it comes to learning to ski: Definitely do your thing and don't say: I can never do it! I'm too old for that. Or I don't learn that anymore. You can learn (almost) anything if you just want to. And you don't have to become a professional to have fun on the slopes. As is so often the case: the journey is the goal - even when learning to ski.
In any case, I think there is nothing better than skiing in the mountains in winter, enjoying the sun, snow and life - by the way, also the best remedy for winter depression
How was learning to ski for you: did you start out as an adult? Is there anything that you learned late and what is your experience like?