"Hillary": The woman who keeps getting up
In January "Hillary" flickered on the screens at the Sundance Festival in the USA. Before Burstein's work starts on the US streaming platform Hulu on March 6, the documentary series about Hillary Diane Rodham Clinton was now also shown at the Berlin International Film Festival.
"My film shows a woman who has been incredibly polarized and therefore both vilified and glorified," said director Nanette Burstein at the Berlinale in an interview with Deutsche Welle. And so the 252-minute, four-part documentary is about that: "I wanted to understand who this person really is."
The film is not meant to be a legacy for the 2016 Democratic presidential candidate. Instead, he looks back on the election at the time. Almost 2000 hours of backstage footage from Clinton's campaign were included. And so the documentary goes well beyond the events of 2016, sheds light on Hillary's political development and finally focuses on the campaign of 2016. "I wanted to make a film about her whole life," says Burstein.
Clinton more open than expected
Burstein first had to convince her protagonist that Hillary's biography was suitable for telling the story of feminism and US politics. More than 45 people who studied or worked with Hillary, including Bill Clinton and Barack Obama, eventually contributed to the film.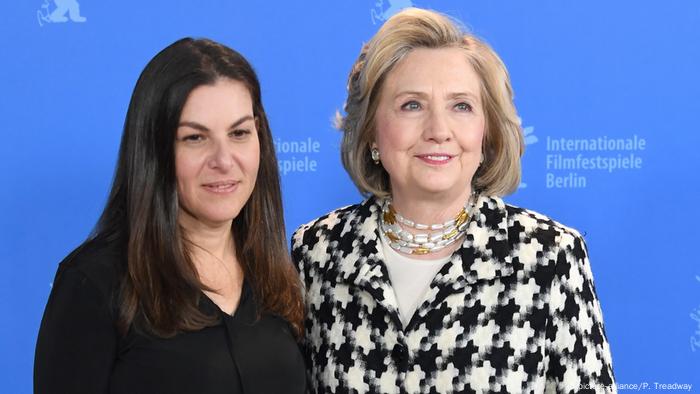 Director Nanette Burstein with her protagonist Hillary Rodham Clinton
The strip looks behind the facade of an experienced politician who was first lady at the side of her first husband, Bill Clintons, as well as US Secretary of State under President Barack Obama. The person Hillary becomes visible, who - despite all challenges and suffered tragedies - gets up again and again. Filmmaker Burstein was particularly impressed by this bravery: "I don't know," she sums up, "whether I would be capable of it."
For her film project, Burstein became a Hillary expert: "I studied her intensively and interviewed her for seven days, as well as her family, friends and journalists who were on her heels. I have read every book on the subject and viewed every scrap of archive material, who ever existed. " Then the surprise: Clinton was more approachable and open than she would have expected - and capable of self-reflection. Hillary was preoccupied with the thought that many people would find her inauthentic. In the film she says: "I provoke strong opinions." Nonetheless, the director attributes the effect to gender politics in the USA: "Hillary has been part of public life for over 30 years and has pushed the boundaries of what women are allowed to do," says Burstein. "She wanted to cast roles that were mostly occupied by men, and of course that aroused displeasure."
Politician with image problem
But Hillary's image problem is not just based on: "In the 1990s, during the Clinton administration, there were many scandals and allegations of corruption." And even if these have been refuted - something always gets stuck.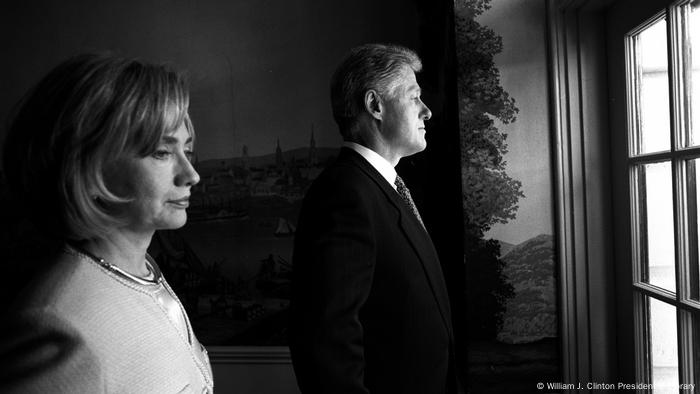 Bill Clinton and Hillary talk about his infidelity in the film
As a first lady, Hillary had to publicly address her husband's marital infidelity. Now she tries not to look back because it is too painful: "Hillary is very future-oriented," says Burstein, "but obviously the scandals haunt her all the time."
Controversial with Bernie Sanders
In the documentary, Clinton doesn't leave Bernie Sanders, her inner-party rival at the time for the Democratic presidential nomination: "Nobody likes him, nobody wants to work with him, he has achieved nothing. He was a career politician," said Clinton in the film. And in January, she reiterated her view to Hollywood Reporter magazine.
When US media picked up on the quote, Sanders' supporters reacted indignantly: their hashtag #ILikeBernie was trending on Twitter. Eventually Hillary rowed back: "It wasn't more than 15 seconds in a four-hour documentary."
Burstein, meanwhile, believes the US media has distorted the story. At the Berlinale press conference, Hillary even agreed to help Sanders - albeit without naming him: "I'll wait and see who we nominate," said Clinton, "and I will support the nominee." She added militantly: "I think it is imperative that we retire the incumbent."
There's something to see here: eight promising television series

"Hillary"

The four-part documentary series, directed by Nanette Bernstein, is about Hillary Clinton's youth and political career. She explores the question of how Clinton dealt with her husband's infidelity, later became a New York Senator and fought for the presidency against Donald Trump. It will be released on March 6th on the streaming provider Hulu - in the middle of the US preselection time.

There's something to see here: eight promising television series

"The Eddy"

Although the official release date for this year is not yet known, fans of Oscar-winning director Damien Chazelle ("La La Land") have already marked this eight-part series on their Netflix list. André Holland ("Moonlight") plays the role of the American musician Elliot, who runs the jazz club "The Eddy" in Paris.

There's something to see here: eight promising television series

"Freud"

The young Freud follows a serial killer with the help of a medium and a war-experienced police officer: This German-language series promises a lot: tension, horror and cocoa-soaked nights with the Viennese upper class. Fans of "4 Blocks" will be even more happy to learn that the first Austrian Netflix production is directed by Marvin Kren.

There's something to see here: eight promising television series

"Trigonometry"

To pay their expensive rent in London, a couple takes in a roommate. Everyone falls in love and develops a modern love triangle. What feels absolutely natural to the three is quickly doomed by friends and family. This clever and fun version of polyamory will be released on BBC Two later in 2020.

There's something to see here: eight promising television series

"Dispatches from Elsewhere"

A visual adventure between a modern fairy tale and an excursion into hilarious absurdity: this series takes place in a mysterious institute that enables participants to live a life full of magic and beauty. You are trying to understand the secret behind it all. The series starring Jason Segel will be available on Amazon Prime.

There's something to see here: eight promising television series

"Sex"

After Cathrine kisses her colleague Selma, things get complicated with her impulsive boyfriend: this Danish drama revolves around the intricate relationships and feelings of a group of young twenty-year-olds. With every episode under 15 minutes, the new web series is created for a new generation of viewers. "Sex" will be shown on the Danish streaming network TV 2 Play.

There's something to see here: eight promising television series

"Stateless"

A depressed flight attendant, a young Afghan father on the run from persecution, a refugee camp supervisor and an ambitious bureaucrat: in "Stateless" the lives of these four characters overlap in an immigration center in the Australian desert. The six-part Australian series was co-produced by Cate Blanchett, who also starred.

There's something to see here: eight promising television series

'Happily Married'

While their children are at summer camp, two couples try to solve their marital problems. But things get violent quickly. The French-language comedy set in Quebec in 1974 is about the rise of nationalism, feminism and the trade union movement. It will initially be published on the Canadian streaming platform Tou.Tv.

Author: Elizabeth Grenier (rbr)