Shows Instagram screenshots of posts
Instagram story screenshots: you need to know that
Is it allowed to take screenshots of Instagram Stories?
In principle, you are allowed to take both a screenshot and a screen recording of Instagram stories. With a screenshot you can, for example, save beautiful pictures and use them as a source of inspiration at a later point in time. Important information can also be recorded very easily in this way.
It is not uncommon for an event, a location or other important news to be announced via the Instagram story - to memorize these, you can easily take a screenshot or take a picture of the story.
On the other hand, it gets a little trickier if you are toying with the idea of ​​reposting someone else's post on your own channels (republishing). Because when third-party images and videos are published, not only does copyright apply, but personal rights, trademarks and property rights also apply.
In order not to get into legal difficulties here, you should therefore absolutely do the before Re-Posting Author's consent catch up. This will also prevent the original poster from being upset.
So to gather inspiration or capture information, you can take screenshots of Instagram stories with a clear conscience - as well as feed posts, Instagram reels and IGTV videos. However, if you want to publish the content, you should first clarify whether the author agrees.
Is the Instagram story screenshot visible to the author?
As the Lifewire portal reports, an Instagram feature was tested for a short period of time in 2018, which informed users when someone had taken a screenshot of their story. However, Instagram has now deactivated the function. So right now you can take screenshots and screen recordings of Instagram stories completely unnoticed. However, it looks different with direct messages.
Direct Messages vs. Instagram Story: Screenshot Notification
Similar to Snapchat, recorded pictures or videos can not only be shared in your own story for all followers, but can also be sent to friends or private groups in the "Direct Messages" (DM) area. If you publish a photo in these chats, the recipient can usually only view the content once. Then the photo will be deleted by itself - just like on Snapchat.
Within this rather private format, Instagram assumes that the author does not want the image to be saved forever. If the recipient still takes a screenshot of the direct message, the sender receives a notification on their home screen. In addition, a circle symbol appears next to the sent message. In contrast to the Instagram story, you cannot take secret screenshots in direct messages.
Save Instagram posts in Collection
In the event that you want to save a feed post, Instagram has also developed its own app option: You can save posts that you particularly like in your "Collections". For this purpose, there is a marker symbol in the lower right corner under the published content. If you click on the icon, the image or video will be saved directly in your collections - but only until the profile owner deletes the post.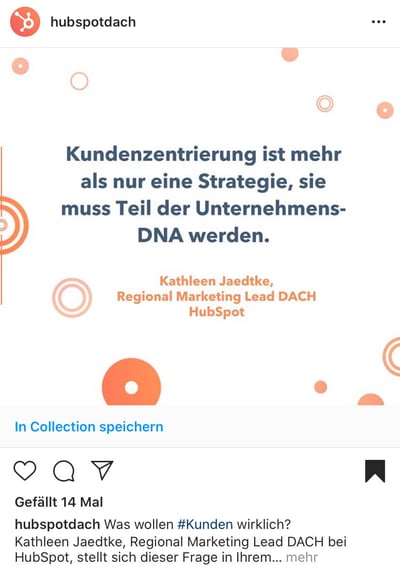 Screenshot: Instagram app
To access the stored posts, simply go to your profile. Then click on the menu in the upper right corner. Select "Saved" in the navigation. This is where you can see all your Instagram posts and your existing collections (if you have already created them).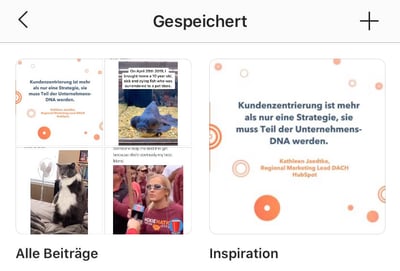 Screenshot: Instagram app
You can also use the + symbol to create additional subfolders and to sort your collections according to subject areas.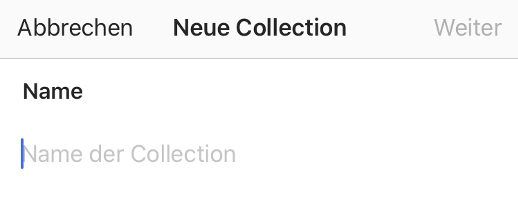 Screenshot: Instagram app
Currently, however, the option is only available for published posts in the Instagram feed. Story, IGTV and Reel do not yet have the marker symbol.
This is how you can take a screenshot or a screen capture of a story
The screenshot and a screen recording are available to capture moments from an Instagram story, an IGTV video or a reel. The procedure differs depending on the device. Below you will find brief instructions on how to take screenshots or screen recordings with both an iPhone and a Samsung device.
How to take a screenshot
Screenshot with an iPhone:
If you want to take a screenshot with your iPhone, press the home button and the standby button at the same time. Newer iPhone models, on the other hand, use the home button + volume up key.
Screenshot with a Samsung:
Samsung users press the standby button and the volume down button at the same time to take a screenshot. Some newer models (e.g. S6, S7) press the standby and home buttons to take a screenshot.
How to take a screen capture
Screen recording with an iPhone:
As an iPhone owner, you can open Control Center by swiping your finger up from the bottom of the screen. (Before doing this, make sure you have added "Screen Recordings" in "Settings"> "Control Center".) There is the record symbol. Press the icon to start recording. You have three seconds before the recording starts. To stop recording, press the icon again.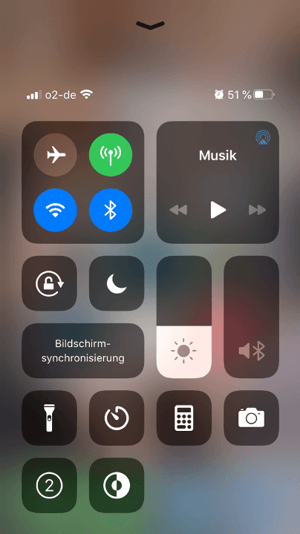 Screenshot: iPhone control center
Screen recording with a Galaxy Samsung:
Samsung Galaxy users can use the "screen recorder" to record. To do this, open the Quick Settings panel by swiping down from the top screen. Now swipe left. The recording symbol is located here. Click the icon to start recording. Again, you have three seconds before the recording starts. A control bar opens in the upper corner. To stop recording, press the stop icon.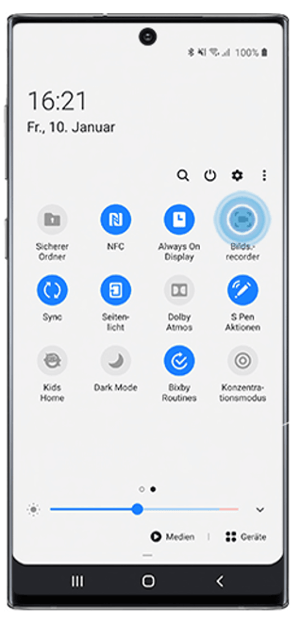 Screenshot: https://www.samsung.com/de/support
For other Android devices, there is an option to use the free AZ Screen Recorder.
do you have the Author's permission to repost Once you have obtained it, you can also use special tools for reposting on Instagram to download, edit and re-share posts on public profiles - both as a feed post and as a story post.
It is very easy to take screenshots of Instagram stories without you noticing. However, take pictures or video clips that are in a Direct message have been sent, the sender will receive a notification.
Screenshots from third-party Instagram stories can be used as a source of inspiration or to capture important information. However, before you want to publish them, you should always obtain the consent of the author.
Title: Khosrork / getty images