How do I make keto pancakes
Carbohydrate pancakes
Keto or low-carb pancakes
No matter what you call them, the pancakes with almond flour are a good alternative to the traditional ones.
At the moment I am very careful to eat mostly carbohydrate free. I neither want to go hungry nor do without anything. The sites and food blogs that I follow have had a real glut of pancake pictures lately 😉 and I sat there with my breakfast quark and fruit. I wanted pancakes too! But in line with my current diet. Coincidentally, I recently bought almond flour (partially de-oiled). With eggs, ricotta and almond milk, a pancake-compatible mixture was created. They look like "pancakes", they taste like that, only the consistency is not exactly the same as the "normal" ones due to the almond flour.
Of course, these pancakes are not plastered with maple syrup, otherwise the desired low carb effect would be gone. Alternatively, homemade applesauce, fresh fruit or cream cheese go well with it, after all, there is a little left over from the ricotta. They are also delicious with a nut butter. Just try. I really liked the berries.
Carbohydrate pancakes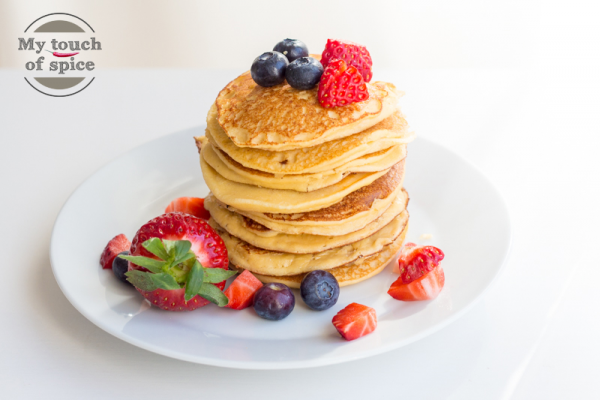 2Eggs
120ml almond milk
70g ricotta
90g almond flour
1 teaspoon of tartar baking powder
1 pinch of sea salt
virgin coconut oil for frying
Mix eggs, almond milk, ricotta, almond flour, pure tartar baking powder and salt with a hand mixer or whisk to form a homogeneous dough. Heat a pan and melt some coconut oil in it. Bake the pancakes on both sides. Serve hot.
2 comments