What is the best medical biochemistry textbook
Medical student council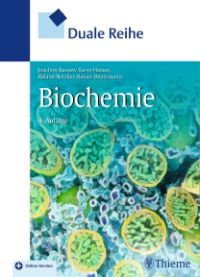 Title: Dual series: biochemistry
4th edition (2016)
880 pages
Author (s):
Rassow, Joachim; Deutzmann, Rainer
Publishing company: Thieme
ISBN: 978-3-13-125354-5
Price: 54,99 €
First impression:
The Biochemistry Dual Series was written by Prof. Rassow, among others - for this reason alone it enjoys a certain reputation at the Ruhr University (and beyond).

What do i like
According to the principle of the dual series, a summary of each text section can be found in the margin. At the beginning of each chapter there is a small introduction to the topic so that you know what to expect. The individual chapters are then clearly structured using different font sizes and markings. There are numerous figures and tables that complement the text. The illustrations of reaction mechanisms in particular are clear and easy to understand. If a lecturer uploads various unlabeled slides with reaction processes, it is worth taking a look at the dual row - you can often find these images here with detailed explanations.
Boxes with clinical information are pushed in again and again. These often also contain content discussed in the lecture and illustrate this with pictures. The colored marking makes it easy to skip them.
The structure of the individual chapters makes it possible to read the book as required - for reading in, repeating, looking up, learning down to the last detail ...
The texts themselves are understandable, but not worded in an amateurish way. However, cross-references can be used to quickly look up unknown terms.
Little extra: There is a code at the front of the book with which you can access additional content (e.g. animations) as well as the PDF files of the individual chapters online.

What do I not like?
There are no numbering in illustrations of reaction processes that can be found in the associated text. That makes it a little harder to understand. The texts contain a lot of additional information. So you have to read the text, look at the illustration, and then usually read the text again in order to be able to classify all the information.
With almost 900 pages, the book is quite heavy - you think twice about whether you want to carry it back and forth.

Exam relevance
The lecture slides should always serve as an orientation for exam preparation, but especially if you missed a lecture or simply couldn't follow it, you can work on the content with this book wonderfully.
As mentioned above, the images used in the slides occasionally come from the dual series, so that you can use them to rework even sparsely labeled slides.

Conclusion
The Dual Biochemistry Series is a book that you can work with throughout the pre-clinical phase. Contents are explained in an understandable way and graphically well represented.
Because it was written by a lecturer in Bochum, many biochemistry lecturers use images and content from the book.
It is pointed out several times that certain enzyme functions or the like have not yet been fully researched. It is therefore advisable to buy a not too old edition of the book.