How did the Kurdish languages ​​develop?
The Kurdish language family and their dialects
Kurdish belongs to the language family of the Iranian languages ​​and thus to the Indo-European languages. Although literary works have been written in Kurdish since the 10th century, no uniform language has been able to develop. Kurdish is spoken in different dialects. The most widespread dialect is Northern Kurdish or Kurmanci (in Anatolia, in the Turkish-Iranian border area, in the Caucasus, in Syria and in the north of Iraqi Kurdistan). Middle Kurdish or Sorani is predominant in the southern part of Iraqi Kurdistan and Mukri - in the neighboring Iranian Kurdistan. There are similarities between Kurmanci and Sorani, but the dialects are so far apart that communication is difficult. Separate alphabets have developed for both. Further differentiations exist within these main groups: Kirmanci (Zazaki) is spoken in certain regions of Turkish Kurdistan. Gurani and other dialects are also spoken in the three southernmost parts of Kurdistan.
Main dialects
Secondary dialects
North Kurmanci (Kurmanci)
Middle Kurmanci (Soranî)
South Kurmanci
Goranî-Zazakî- Kirmanci (Zazakî)
Dialects
Bayezidi
Sineyî
Feylî
Hewraman
Bótánî
Silêmanî (literary language)
Kermanşanî
Zengene
Aşîtî
Erdelanî
Lekî
Kerkûk
Badînanî
Kerkûkî
Kelhorî
Kakeyî
Cezîrî (literary language)
Germiyanî
Xaneqînî
Dersim
Hewleri
Lorî
Xarput
Soranî
Mukri
Şarbajerî
Pijderî
Writing culture
Riza Baran's contribution to the development of the Kurdish written culture
cards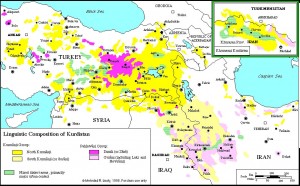 Linguistic map of Kurdistan
Spread of Kurdish